Badagry: Descendants of foremost slave merchant now live in cells he built for slaves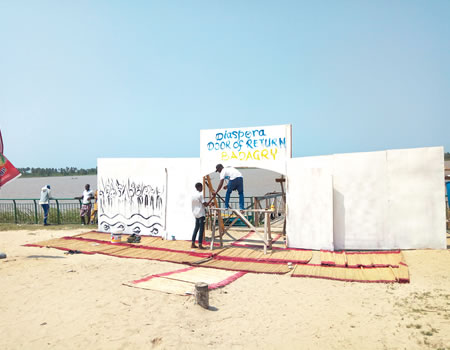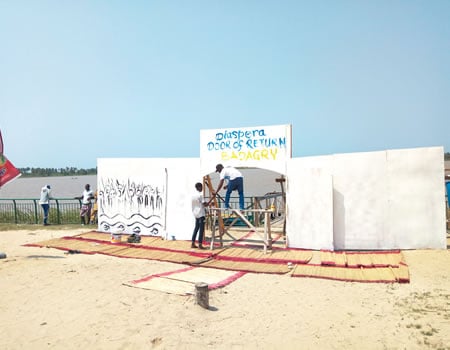 MARINA Road, the route to the Badagry Slave Heritage Museum, was extremely bleached. Most of it was covered in sea sand and a timid spread of coal tar. On the one side of the road lies the Gberefu Beach, a markedly long stretch of sandy coast, historic for harbouring one of Nigeria's largest ancient slave ports.
It was here that slaves from Nigeria and Benin Republic were crammed into schooners then off to the horrific bowel of slave ships en route to the Americas.
On the other side of the road were littered dwarf buildings, surviving monuments and relics of the Trans-Atlantic Slave trade. Among them, Seriki Faremi Williams Abass Slave Museum and the Gberefu Beach stood out.
It was a Thursday, the day of the Badagry Diaspora Festival. The entire neighbourhood took on the carriage of an old spinster conscious of an approaching suitor. The streets were clean. The drainages didn't smell. And the locals were kind. Some went about their chores, others sat in clusters trying to smack a conversation. But they all kept one eye on the road. The visitors were on the road.
It was past 9.00 a.m. There was lust in the air, the lust of a tourist for an artefact. There was tension, too, the kind that overcomes an oldie at the sight of a skeleton.
The compound of Seriki Faremi Williams Abass, the foremost black slave merchant of the 19th century, was every tourist's ideal spot, and every journalist's port of call. It consisted of 40 cells called the Brazilian Baracoon where slaves were stocked before shipment. The Nigerian government had converted the building to a national monument. Paintings of female slaves crying as they are hanged and dragged in large chains were all over the walls. They portray cruelty and horror.
A naked child dashed out of the compound screaming. His mother was in hot pursuit. Once within reach, she gagged his mouth with the palm of her hand and there was quiet again.
The architecture of the slave cells remains intact but some of the enclosed structures are now being occupied by the descendants of Seriki Williams Abass.
"I have been staying in this compound for about 25 years," Fatima Abass, 27, a great granddaughter of the slave merchant and a 200 level student of Sociology at the University of Lagos, told Saturday Tribune.
A well, said to be as old as 170 years, still supplied water for domestic use. Seriki Abass's house had long collapsed. Only a large expanse remained of what, it was said, used to be a storey building.
"This is where God has put us. Some of the descendants don't have anywhere else to stay. We thank God we still have a place to stay," she said when asked why the descendants of the first African slave trader are occupying the former cells built for the slaves.
"We modernised the cells. This is not how they used to be. We expanded some of the small windows that served as ventilation to big windows. It is not like the two cells reserved for tourists. There is a huge difference between our rooms and the reserved cells."
Inside two of the cells reserved for tourists were ceramics, a mirror, a bottle of alcoholic wine worth 10 slaves, an umbrella worth 40 slaves and canon guns worth 100 slaves each and chains of different types and shapes.
"Sometimes I feel very sad that my great grandfather was a slave merchant. Although he was captured as a slave when he was six years old and sold to Abass and then to Williams, who made him a slave merchant, I still feel bad about it," she said, dropping the words delicately as though they would fall off her mouth and shatter meaninglessly on the ground.
Some tourists murmured briefly. They were questioning the rationale behind the hero treatment of Seriki Faremi Williams Abass.
"The slave trade is not a trade, it is wickedness," Simon Stone Eyanan, one of the tour guides and a reggae artiste, injected. "How could you sell human beings and call it a trade? It is not a good business because those who were displaced from their ancestral homes are not happy about it.
"I am happy that some of them are coming back home today. It is a good thing, because majority of them are tired being second class citizens. So, they are welcome. This was a point of no return, now it is a door of return."
Door of Return
The Seriki slave cells directly face the slave port of the Gberefu Beach, which was famously known as the "Point of No Return." Two poles slanted slightly towards each other had been used to mark the spot on the Island. But by half past 9.00 a.m. that Thursday, a door stood there, complete with lintels and pillars. It is now called "Door of Return."
"Nigeria is taking the lead in opening the Door of Return to all African descents around the world. And we look forward to a yearly event where this door would continuously be opening to everyone in the Diaspora willing to return. It is going to be a world class festival," the organiser and Senior Special Assistant to the President on Diaspora and Foreign Affairs, Abike Dabiri-Erewa, said at the Door of Return Ceremony, part of the annual Badagry Diaspora Festival held Thursday last week.
She was also addressing 18 nationals of Brazil, Jamaica, Trinidad and Tobago and the United States who have traced their origin to Nigeria and had returned.
"I just want to say welcome home, brothers and sisters. We are glad to have you home. You are not asking for anything, rather you asking to return to your heritage. You want to know where you came from. It is your right to do so. And we want to make it possible for you. As we welcome you to Badagry, we look forward to a very intellectual discourse with you. Welcome, brothers and sisters, to Badagry. Welcome to Lagos. Welcome to Nigeria, the heartbeat of Africa," she finished.
Among the returnees were professors, diplomats, a minister of finance, students and a (seven-year-old) boy.
Ceremony of welcome
There were lots of canopies stretching from end to end at the venue. But the seats under them gradually became scarce. Locals and tourists were safely planted on every spot of the historical soil. Around 10.53 a.m., a procession of the emir and people of the Hausa community in Badagry began to file in – horses and men. It was a magnificent sight.
The convener and an Emeritus Professor of History at the University of Lagos, Anthony Ijadola Asiwaju, had described the festival as "universality in locality." It was dedicated to the people of African descent in the Diaspora, both living and dead, in commemoration of the trans-Atlantic slave trade.
"But the organisation of the Door of Return Ceremony as a symbolic welcome ceremony was to admit the diaspora back into Nigeria through Badagry," Babatunde Olaide-Mesewaku, the President, African Renaissance Foundation, one of the partnering organisers, said in his speech.
The Door of Return ceremony was novel to the annual Badagry Diaspora Festival held every year since 1999 in Gberefu Beach. No one knew what to expect.
The drums sounded after the speeches. The Ajogan dancers from Jegba Quarters commanded attention. The audience quickly obliged. But it was an intimidating silence in the end. They stormed out of the stage slightly disappointed. Then a relatively young group dabbed in dansiki and palm fronds on their wrists and heads became visible. Some of them drew bold white circles within the borders of their eyelashes as some native doctors in Nollywood movies are wont to do. The ladies wrapped only delicate parts of their bodies with similar fabric, but garnished their heads, necks, wrists, waists and feet with red beads. A petite lady suddenly rolled out of a wooden box. The guests were touched. And she smiled and swung her waist. She had a way with the audience because those in the back row became anxious to see her. The dancers staged a pantomime of slave transaction and exportation and left. The Gbenopo drummers, Gelede masquerades, Zangbeto magical display, Sato drum took over the stage in turns.
Royalties, including Wheno Aholu Menu-Toyi I, the Akran of Badagry, the Alapa of Apa and the Aholu of Kweme, who decorated the front seats imminently, accepted adorations from the cultural groups and people from time to time. Young men in red hats and isi-agu top, the dress signature of the Igbo people in Badagry, served palm wine quietly to the Eminences on the front seats.
When it was time for the Door of Return to be officially opened, the crowd was the first to notice. The canopies faced the Lagoon. The Lagoon was demarcated by brick walls the height of a five-year-old so that the fleet of beautifully decorated boats and canoes sailing towards the shore was not visible to the royalties in front. The impact of this realisation charged everyone to the Lagoon.
Behold! The returnees were truly returning, sailing back to their ancestral land to the full glare and admiration of the people of their own. It was like beholding a lost son galloping homeward in a chariot of gold.
Their forebears were carted away to unknown lands in heavy chains, in tears and in blood, never to see their ancestral land, never to feel the warm embrace of family and friends. They knew the cold pangs of hunger, of shame and degradation. They survived sicknesses, lashes and shipwrecks. They were priced and sold like vegetables. They lived like commodities. And now, they are back. They sailed to foreign lands in schooners of hate, now they return in boats of love in the form of great grandchildren of so many generations.
The Orisa Aje priest and priestess, alongside dignitaries and other people, waited patiently for the returnees to touch down. The priest held a newly designed calabash filled with water or some concoctions of the sort. Before their departure, slaves were forced to drink from a sacred well known as "Slave Spirit Attenuation Well". The well, located a few metres from the beach, it was believed, erased their memories and made them less aggressive. The priest's water was the antidote! He held a bouquet of fresh leaves with which to collect the water from the calabash. Here was the process: once the door opened, a returnee was let in with loud shouts and jubilation. He or she bowed. The Orisa Aje priest sprinkled the water, said a few incantations and welcomed them to the land. The priestess jiggled the chakara. About 18 returnees went through the process.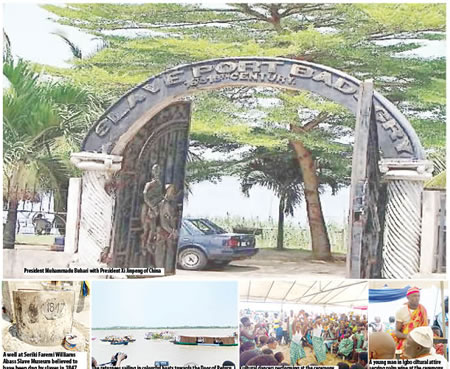 Creed of forgiveness
The Orisa Aje priest's assignment was to cleanse. He carried this out with great enthusiasm. He knew how to combine kola nuts, how to let them loose on the soil. He read the semantics of their falling and came up with a commensurate amount of incantation. All that anyone could do was to watch and wonder. The returnees stood in a semicircle on stage while the priest cleansed them. After 30 minutes of working on them, he retired. It was their turn to speak. Timothy McPherson started. He recited loudly:
"I forgive! I forgive! I forgive!
Having touched the soil of my forefathers,
I hereby forgive so that my soul can be free
As I touch the grounds of my ancestors,
All wrongs done to me and my ancestors are hereby forgiven
As I pass through this door of return,
I return with a basket of forgiveness.
As I walk back to the embrace of my brothers and sisters,
I forgive.
I forgive so that I can produce.
I forgive so that I can add value.
I forgive so that my tomorrow can be better
Than my yesterday.
I forgive so that my ancestors can rest in peace,
Now that I have returned.
I forgive so that Africa can unite and live in peace.
I forgive so that Africa can prosper.
I forgive so that I can move forward.
I forgive because that is the only way.
I forgive so that I can pave way for generations yet unborn.
I forgive so that my children can find peace.
I forgive so that my children can find a home.
I forgive so that the rebirth process can begin.
I forgive because if I don't who will?
With all my heart, I forgive!"
After his recitation, Timothy sat down, but the crowd and guests remained standing for a long time, clapping and crying.
The global African
Mr Timothy McPherson Jr is the Minister of Finance from Accompong, Jamaica. He spoke to Saturday Tribune after the event.
"I can't highlight enough how important today's event is because what we are looking at is a new era of cooperation between not just Nigeria, but continental Africa and the diaspora. Whether from the United States, United Kingdom, Jamaica, Brazil or the Caribbean, what we are looking at utilising today is as an inaugurating event for a new era of what we like to call the global African.
"We will be utilising tourism as the means of bringing the diaspora to the continent and having cultural exchanges, direct investments – just really taking Africa to the new level. This is the new era of pan-Africanism."
The Vice President of Diaspora African Forum, Dr Juliet Coker, expressed her excitement to Saturday Tribune.
"I am originally from Ogun State, but I have been abroad for 50 years. I am a professor of medicine. I have done extremely well. Somehow you just know, ultimately home is home. I am so excited to be back. And I know this is the right thing to be doing at this moment of my life. I hope that black people all over the world will understand that our strength is when we come together, not when we allow people to disintegrate us. Some of us are professors from various institutions around United States. Our best brains are out there. We need to bring them back.
"Thousands of Africans from all over the world want to come back but they don't know what to do. That is why we created the Diaspora African Forum to be a wedge in terms of helping people to come home in a positive kind of way."
The Ghana example
Ambassador (Dr) Erieka Bennett-Audaff, Head of Nations for the African Union, Diaspora African Forum, who is a Nigerian but will be settling in Ghana, said, "We have many Africans that want to come back. In Ghana alone, we have over 10,000 African-Americans that live there. So, we are doing it in Ghana and we are hoping to do it in a big way with the help of the minister here in Nigeria.
"Ghana has a way of accepting those that come. So, it is a safe landing for the Africans in the Diaspora returning to Ghana. And we are encouraging other countries to do the same. We don't want to hear that you want diasporans to come back just for their money, just for investment. We want to come home as family members, and that is one of the things that Ghana has done. They have embraced us as family. They have given us citizenship and land. So, they have really accepted us in a way that makes us feel at home and it is not just for our money."
Reacting to the Ghana example, the Deputy Director, Diaspora Relations Office, Office of the President of Ghana, Miss Nadia Adongo Musah, advised that African countries open their hearts to the diasporans.
"Our diasporans that want to come back home are looking for the right project. They also want to change the perspective that people have of Africa. The news about Africa has discouraged so many people from coming back. But the news getting now with this development is that everyone wants Africa to grow.
"What we are doing in Ghana is to set some incentives that will allow them to want to be part of what we are doing. The current government has employed more than 35 diasporans into the government, which is the first time in history. It makes the diasporans feel they are part of something meaningful."
The key strategyof the Door of Return ceremony was in its historicity, its success in shedding light to centuries of bleakness cast on the continent as a result of slave trade. Its continuity will provide hope to Africans not just in diaspora, but also at home. Stories of the ceremony will be told for years. And hopefully, Marina Road will one day have a proper facelift.