A woman's brain is her only asset that can take her to the top —Julie Okah-Donli, DG NAPTIP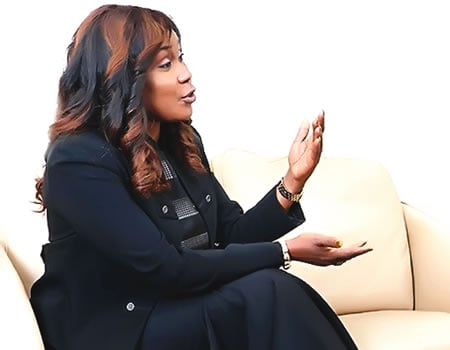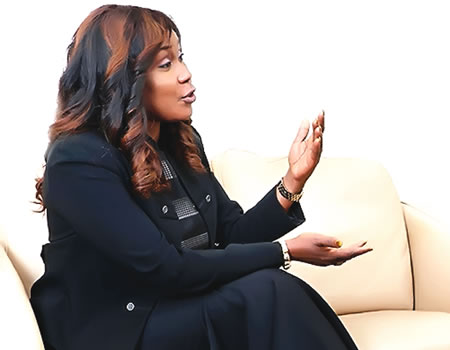 Julie Okah-Donli, the Director-General of the National Agency for the Prohibition of Trafficking in Persons (NAPTIP), is a legal practitioner by profession and the founder of Julie Donli Kidney Foundation, a foundation that helps fellow citizens in awareness of their health situations and also how to stay healthy. In this interview by TAYO GESINDE, she speaks on her activities and achievements as a public servant, how women can make it to the peak of their careers, how Nigeria can win the war against human trafficking, among other sundry issues.
Background information
I am an indigene of Bayelsa State and I was born on December 30, 1966. I am a mother of two grown up children. I have a Diploma in Law and a Degree in Law from the Ahmadu Bello University, Zaria, and was called to the Bar in 1992. I have worked in the private and the public sectors and held the following positions: Manager, Securities and Exchange Commission (SEC); Company Secretary cum Legal Adviser, Nigerian Capital Market Institute; Head, Abuja Regional Office, UBA Trustees PLC; Deputy Head of Chambers, Legal Resources Alliances; and Executive Assistant to the Governor of Bayelsa State: 2007-2012. Before my present appointment, I established a Legal Firm: Julie Okah & Co (Legal Practitioners) which I was the Principal Partner. I am the founder of Julie Donli Kidney Foundation and a member of various professional organisations including: Nigerian Bar Association (NBA); International Bar Association; Nigeria Institute of Management; Institute of Chartered Secretaries and Administrators of Nigeria; Institute of Chartered Arbitrators of Nigeria; and the Certified Institute of Auctioneers, Nigeria. I am also a Fellow, Institute of Chartered Secretaries and Administrators International (FCIS); Associate, Chartered Arbitrators of Nigeria (AcArb); Fellow, Certified Institute of Auctioneers (FCIA). I am also an author. I wrote the Book: Parenting in the 21st Century.
My achievements at NAPTIP
I have been in NAPTIP for slightly above four months now. It has been interesting and at the same time challenging. We have no doubt made some modest achievements within the period, which include: Getting the Federal Government to extend the Whistle Blowing Policy to human trafficking issues; establishment of a Zonal Command in Osogbo, Osun State; Getting the British Government to buy into a NAPTIP Joint operations with the British Border Force at the Heathrow and Gatwick Airports in London; Massive awareness creation across the country; Establishment of a Rapid Response Squad (NAPTIP-RRS) under the DG's office for prompt operations (Through this squad a number of criminal networks have been busted); establishment of a Reform Unit to ensure prompt service delivery; galvanising the support and collaboration of partners and stakeholders within Nigeria and abroad; amongst others.
The price I paid to get to where I am today
As a woman, the only price I have paid to get to where I am today is just hard work, being focused, not seeing impossibility in anything or task and believing in God to bless any task I undertake. I believe strongly that your gender should not be an impediment to any woman getting to the top. If you are hard working, it becomes difficult for anyone to ignore you. I learnt that from my father who was a military man and he always told us not to see anything as an impossibility and that we must work hard at all time as hard work pays no matter the delay. He made us to also realise that one can achieve anything in life irrespective of your gender. In those days we competed favourably with men and we were everywhere together and my gender never stopped me from anything. Because of that, anywhere I work, I leave a mark and those I worked with always testified to that.
My experience at African Women Leadership Organisation 2017 conference in America
Waoh! The experience was awesome. We had a wonderful time. The conference had great women from various professional backgrounds and top positions in their countries gathering to share experience. It was a great privilege for me to be one of the conference speakers and I was happy to note that my presentation was well received. Remember, these were not just any type of women, but professionals and leaders in their countries, women with great pedigree and who have a lot to give to this generation. There was also a lot of networking. For me, I had many people who became interested in the work we do here at the National Agency for the Prohibition of Trafficking in Persons (NAPTIP) and are interested in partnering with us.
Also, the conference equipped participants with lots of knowledge on how women can get to the top and remain there without cutting corners or without going through any form of abuse or exploitation. The conference made it clear to women to always fight for the top through hard work as that remains the only major way to get off the gender inequality. Women were encouraged to always encourage younger women not to give in to issues that debase them in their quest for better things and positions. The ball is now in our court to keep working towards achieving a genuine gender balance in our countries. All in all, it was a huge success.
The lessons I learnt from other speakers at the conference
One of the things I learnt was that knowledge is power and that as a woman, you are the one that can take yourself to the top. Secondly, everyone wants to get to the top, hence the road is crowded, but only the ones with exceptional abilities and performance will get there. The top position is also taken by the strong and not given to women by the men, so hard work pays. We also learnt the need to help other women who are weak to get off their weak and vulnerable positions. It was a refreshing time for all of us.
Empowering other women
As a career woman, I have over the years used my position to protect women especially the young and vulnerable ones. Over a period, I established the Julie Donli Kidney Foundation as my contribution to raising healthy people especially, women. I saw women dying without help based on kidney related health issues and I decided to do something about it. My job at NAPTIP is also a great opportunity to impact on the lives of women and children who are quite vulnerable to abuses including trafficking. Every woman has some milk of kindness running through her veins and for me I will always use any position God provides me to share my own milk of kindness with other women. I will continue to create awareness on women issues and by the grace of God we shall win.
On whether Nigeria can win the war against human trafficking
Oh yes! Nigeria can win the battle against human trafficking despite the economic situation. That is why we have embarked on massive awareness creation to raise the consciousness of our citizens on the dangers of human trafficking. If we are able to capture the minds of our people and get them to realise that there is no fact in the stories of traffickers, with or without money in their pockets they will not follow any trafficker as they would have become aware that the stories of traffickers are a mere call to hell which human trafficking represents. However, we also need lots of money for the outreach. I believe strongly as Mr President has assured that Nigeria will soon get out of the present economic problems and when that happens, it will also rub off on the fight against human trafficking for good.
Combining career with the home front
It is a difficult task no doubt. However, God in His infinite mercies has endowed women with enough strength to multitask at all times and all we must do as women is to realise that nature has no place for excuse and work hard to meet the demands of the work place as well as the home. In doing that, we no doubt need the cooperation of the men in our lives, that is, our husbands, as well as our male counterparts at work places. Women may not get this cooperation, hence hard work is required and when this happens it becomes easy for the woman to establish something of her own where she will be able to manage her own time.
Advice to young ladies out there
My advice to the young ladies out there is that hard work pays. There is no free lunch anywhere in the world. Young women must develop themselves so they can be respected. They should use their brains more effectively as that is where their beauty lies. No man wants to have a woman who has nothing to offer intellectually. Your beauty is not enough; your fashion consciousness is not enough but what you carry upstairs in your brains is the only thing that can take you to the top.