Bread may disappear from Nigerian markets as bakers give govt 14 days ultimatum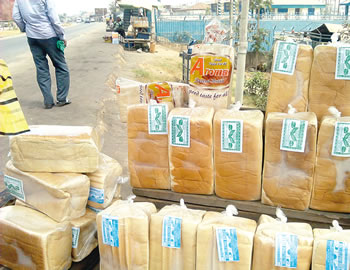 LOVERS of bread in Nigeria may soon have to do without the staple food as bakers in seven states have threatened to down tools unless the federal government intervenes in the skyrocketing prices of the ingredients of the products.
Bakers from Lagos, Ogun, Oyo, Osun, Ondo, Ekiti and Kwara States on Tuesday protested in Lagos an gave the federal government, a 14–day ultimatum to urgently intervene in the plight of bakers as well as the general masses in the country.
Armed with placards, with inscription such as :  "Bread  may disappear in 14 days, if situation does not change ,  Masses are suffering , bread is no longer affordable, too many job losses in the baking industry, federal government, baking sector must not collapse and Bakers throughout the country may down tools  very soon if flour prices are not reduced,  the bakers claimed that many of them had gone bankrupt.
The south-west chairman of the  Association of Master  Bakers and Caterers of Nigeria, Alhaji Abibu Abolusodun, while speaking during the protest also said that the Nigerian masses cannot afford another hike in the price of bread again.
The vice chairman of the association, Prince Jacob Adejorin also said that the price of baking ingredients had gone up by about 100 % in the last two years.
Alhaji Abolusodun passionately appealed to the federal government of Nigeria to reduce the 70% import duty on wheat importation as a way of forcing millers to reduce the cost of wheat flour.
He also wants " flour millers to be given access to dollar / foreign currencies directly from the Central  Bank of Nigeria  to purchase their raw materials  and that the" empowerment charge of #1000 levied on 50kg of flour be stopped forthwith."
He also advised that " the accrued  amount of the # 1000 so far collected be used to empower   bakers nationwide as a way of alleviating the hardship that they have been going through."
Alhaji Abolusodun opined that "  the master bakers is of the opinion that when the federal government intercedes, the flour millers should revert the prices of wheat flour and sugar to its original price. Those are the two major ingredients  that determine the price of bread  in the market."
" Between January and February 2016, a 50 kg of wheat flour was sold for # 6500, while a 50kg of sugar was #8000  and right now as I am addressing you a 50 kg of wheat flour is sold for # 11,200, while a 50kg of sugar is sold for #17 000  ex-factory.  In the south-east and the north, the prices are unimaginable," the bakers' chairman said.
Adejorin said that the bakers gave the government the 14–day ultimatum to save the Nigerian masses from further hardship and to prevent millions of bakers from being rendered jobless.