Irigwe people live today in fear —Community leader
Bassa Local Government Area of Plateau State has been under persistent attacks by suspected herdsmen in the past five months and no less than 100 people had been killed. In this interview with ISAAC SHOBAYO, Honourable Sunday Abdul, a former member of Plateau State House of Assembly and the current National President of Irigwe Development Association, speaks on the killings and way out.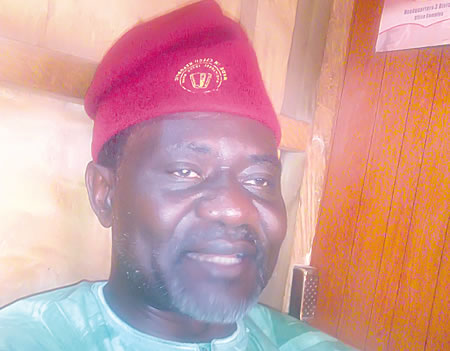 What is the security situation in Irigwe land and entire Bassa Local Government Area of Plateau State?
Since August last year, it was just yesterday (last week) that we were able to sleep without any form of molestation. We are praying to God to take over this battle because it is beyond us. Still, we are sleeping with one eye open.
What is the overall view of the situation in Irigwe land especially the killings and level of destruction?
The truth is that the killings and destruction of properties are monumental. We have lost over 100 lives. We have lost houses in thousands, lost crops that ought to have been harvested. They used cutlasses to destroy crops and went away without the government coming to our aid. They would run cows through our farms, a farm that was stretching up to seven kilometres. Those dry season farms were destroyed. And till today nothing is said about it. The people that survived these mayhems are hospitalised. The survivors are hungry because apart from burning their houses, the place where they stored their crops were destroyed and set on fire. We depend solely on dry season farming. We normally prepare food for the raining season but right now they have destroyed everything. They have killed our morals, so we are looking up to God.
Bread may disappear from Nigerian markets as bakers give govt 14 days ultimatum 
Does it mean that farmers cannot access their farms?
They can access their farms but what I am saying is that the crops that were due for harvesting were destroyed and the farmers were rendered useless. They have lost virtually everything. There are no crops, there are also no money and no leftover to eat.
How prepared are farmers for the raining season?
What we are saying right now is that government should be sincere and be on its feet, speak the truth to whoever needs the word that this kind of wickedness, mayhem, trampling on our right be stopped henceforth because the farming season is approaching. Without peace, you cannot go to the farm. We are appealing to the government to come to our aid, we don't want a repeat of what happened last year where farms were destroyed and many agile farmers killed right in their farms.
Both the Irigwe and the Fulani herdsmen have been trading blame over this matter, who really is the aggressor?
Irgwe man is not a herdsman, he has no business with cattle rustling, and we are not interested in anybody's property. Irigwe man is known for his pride, an average Irigwe man is a proud person. We are not interested in anybody's property. We are not thieves, and we are too special to steal. We honour God with what we have, we do not rustle cattle. It is Fulani that rustles cattle, they know the language. To buttress my point, some few weeks ago, a Fulani man was paraded by security men for beheading his kinsman and taking away his cattle. That is a good vindication for Irigwe man. It is the Fulani themselves that are behind this atrocity.  So for any Fulani man to say we are rustling their cattle is laughable. You know who the aggressor is, we are in our houses sleeping and somebody entered with gun and wiped out the entire family. In this situation 'who is the aggressor?'. The aggressors know themselves.
What is your association doing to resettle the displaced people before the farming season?
We are busy encouraging our sons and daughters to contribute money so that we can rebuild the burnt houses to some reasonable extent so that our people can have places to put their heads. There is one thing I want you to know, our people are not like others who will run away and leave their abodes for attackers to occupy. Recently, the British High Commissioner visited this local government area and we took him to places where people were killed and their properties destroyed. But to his surprise, the High Commissioner and his entourage discovered that our people are still staying in these burnt houses. We are not bluffers, we are speaking the truth, and our people don't go to IDP camps no matter how bad the situation is.
What are your people doing in conjunction with the government to restore normalcy to this troubled local government area? 
The state government tried. I remembered they brought in some materials last year and that was commendable.  Even though the relief materials could not go round but the response was an indication of willingness. But the Federal Government has not shown any interest in what is happening to us.
Don't you see this Federal Government posture in the light of the impression given by the state government that all is well with Plateau State?
That is where the state government erred and it is not right. I spoke with government officials; I said you cannot do that, our people voted for APC despite the fact that Bassa was a PDP local government. But today what do they have for it, what have they done to show that Irigwe people voted for the party in government in Plateau State? The only thing we are gaining is losing our lives every day, so the people have seen thing for themselves and they are waiting.  I blame the state government for shielding the truth from the Federal Government by not telling the truth. It is very wrong; it is criminal for a state government that is supposed to be responsible enough to protect its people and feigning ignorance or pretending that nothing is happening. The other side is that the Federal Government cannot be exonerated from the blame no matter how you put it because it has its ears on the ground. How can people be dying from August last year till date and you said peace has returned to Plateau State? What is the definition of peace? Maybe their own definition of peace is different. They told the president when he came to Plateau State that there is peace in the state but that very day, attack was going on in Irigwe land. They killed five people, that very day and in Daffo in Bokkos Local Government Area of the state. They killed people that very day; houses were burnt including the house of one of the elders who was supposed to speak the truth and defend the land but chose to do otherwise.
How do you think the problem can be resolved when there is a misconception of the whole thing?
Plateau is one state in Nigeria that good people are looking up to for salvation, for good ideas. Everything you imagine good in Nigeria emanated from Plateau State both intellectually and otherwise, including sport and music. It is unfortunate that we have these types of leaders that are supposed to fear God and respect themselves, I am not happy with their disposition, their action is portraying us that Plateau people are bootlickers, Plateau man is not a bootlicker. Trace the history of Plateau, you will see that Plateau man is a resilient human being. He is full of courage. I don't know where these elders are coming from.
You are blaming the military for the escalation of the problem, what is your opinion concerning military operation in your local government? 
We have the evidence of a situation where these militia groups wear military uniform to perpetrate evil. Another example was the incident of last year where close to 20 people were killed at a military base, which is in a school used as their operational base. Another problem is the issue of outdated military equipment. In most cases, the herdsmen are more equipped with sophisticated weapon than the military.
What is the way out of this attack by herdsmen across the country?
One of the ways out is good leadership. I mean leaders that should be able to take care of their people and have their interest at heart. Those saddles with the responsibility of piloting affairs of this country should stop playing politics with this situation and be more practical in their approaches to the issue on ground. It is not all about checking the past government; it is about the sincerity of purpose and taking action at the right time. They should take stock of the military and remove the bad eggs. Let them protect Nigeria so that Nigeria won't collapse.