When Osinbajo, Tinubu, Fayemi, Oshiomhole, others raised the bar in Ekiti
As the countdown to the July 14 governorship election peaks, KUNLE ODEREMI reflects on how leaders of the All Progressives Congress (APC) flagged off the campaign of the party's candidate for the election, Dr Kayode Fayemi
ROBUST political discourse and debate is fast-becoming a less fancied culture in the nation's political space, just as political campaigns and rallies where parties and their candidates can profile themselves and showcase their manifestoes and programmes have been  turned into mere theatrics and jamborees. But last Tuesday in Ekiti State, some major stakeholders in the All Progressives Congress (APC) tried to bring back the fond memories of the late sage, Chief Obafemi Awolowo, who ingrained in the subconscious of Nigerians politics of issues and pragmatism espoused in the five cardinal programme that centred on the empowerment of the citizens and ultimately, self-esteem and actualisation by the people.
With that sense of history, the APC stalwarts, including vice-president, Professor Yemi Osinbanjo, apparently raised the bar of such discourse at the formally flag-off of the campaign of the party's candidate, Dr Kayode Fayemi, at the Oluyemi Kayode Stadium, Ado-Ekiti, ahead the July 14 election in Ekiti State. The leaders chose to reset the current narratives on the politics of the state, elevating fundamental issues that "redirecting the state from an era of dependence to prosperity, self-esteem and pride."
Individually, they advocated a paradigm shift in policies; a leadership with character, vision and pedigree. Other issues raised by the preponderance of the leaders, especially governors included: power of voters to choose who governs them; integrity of the ballot box, honouring traditional institutions and key constituted authorities; good governance and accountability, as well as food security and empowerment and free education. Much of these values, in the opinion of the speakers, must be restored, and the first step towards actualising the goal is by the voters collecting their Permanent Voter Cards (PVCs) and trooping out to vote for the APC candidate on July 14 because he is tested, dependable and reliable. Even though he was the last to addressing the gathering that comprised virtually the powerful and the influential in the party, Dr Fayemi vividly captured the thesis on the way out canvassed by all the leaders that addressed the audience that comprised artisans, traders, commercial motorcyclists, farmers, professionals and other critical stakeholders in Ekiti. "The opportunity is upon us by July 14, 2018 to right the wrongs of the past. The choice is before us to resume the march to break the yoke of ignorance that keeps our people down, liberate them from ill-health and other limitations that restrain them from achieving their full potential; or to choose the continuity of clueless governance, and the tightening of the stranglehold of poverty and ignorance." he stated. The erstwhile Minister for Steel Development observed that the presence of "our party leaders at all levels, that we have no plans of subverting the will of the people like was done the last time" as "Our President, Muhammadu Buhari, has demonstrated time and again that we are true democrats who play by the book." He said those insinuating that the APC was relying on federal might to win the election were only afraid of their past."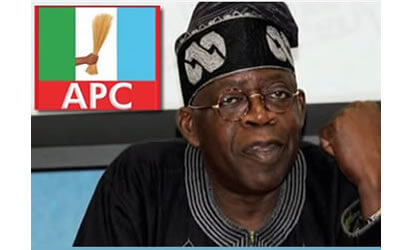 "We are all witnesses to the very noble act by our president to accord the icon of our democratic struggle, the late Chief M.K.O. Abiola, the recognition due exclusively for past presidents, thus correcting a historical wrong. We have also seen that in true democratic spirit, in spite of the hate campaign and animosity of the Government of Ekiti state, our President has done well, in the past three years, to give to Ekiti all we deserve. Our democratic credentials as a party are not in doubt, and we are certain to win the election by the popular will of the people, and by the grace of God.  Ekiti kete, I assure you all that the only "federal might" we are deploying in Ekiti is to continue attracting developmental projects to our state, and concrete federal presence. Just as we have been doing as opposition in the state, we are ready to do even more when an APC-led administration assumes office on October 16, 2018."
ALSO READ: Fayemi not interested in taking Ekiti by force ―Ekiti APC chair
For more than two hours, there was a huge dose of glamour, theatrics and razzmatazz from a broad spectrum of groups ranging from cultural to professional ones, who kept the audience spellbound, including the vice-president, who, in his usual sartorial style and candour, said: "God has chosen this lucky man (Fayemi) to bring good governance and purposeful leadership to the people of Ekiti State. On July 14, don't look elsewhere but look forward to voting APC. APC is a party that means well for the people, APC is a party of progressive people. We have come here to give you a delicious soup in Ekiti; JKF (Fayemi) is that lucky man chosen to bring positive change to Ekiti. On July 14, vote JKF and Ekiti will witness progress, development and good governance. God has brought a blessed man, who is Dr Kayode Fayemi. He will do Ekiti a lot of good if elected governor. He will bring development to your doorsteps. On July 14, don't look back or side way, just look forward to a good future ahead of you by voting for Fayemi. APC is a party of progress. Let us vote for APC in this election. APC will help Ekiti to develop. Just as his arrival sent the people on frenzy, deafening ovation and applause accompanied the speech of APC national leader, Chief Bola Tinubu. He said Ekiti people regarded as the Land of Honour could ill-afford to left out of the hurricane called the broom revolution sweeping across Nigeria, but that the step towards achieving that dream lie in the people obtaining their PVCs. "This is the only place where change is necessary now, this is the broom revolution. Raising the broom is not enough, what is your value of coming here if you don't have PVCs. If you really want progress, what is the essence of you staying here from morning till now without having PVCs?  Ekiti won't go back to sadness and poverty. The PVCs represent your red card on the day of election. I want you to give PDP a red card on the day of election. We have been giving PDP yellow cards all this while but on the election day, we are giving them the red card. We took Fayemi to the federal level, he was a minister where Osinbajo is vice-president but Ekiti is now a lone ranger. This is your son, we have taught him, and he is a friend of the President. We are going to do the election together. He now understands the game. I want you to vote him 100 per cent on July 14."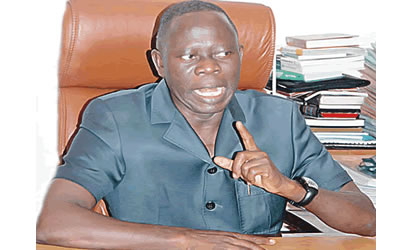 For Comrade Adams Oshiomhole, the chicken is gradually coming home to roost, as the alleged conspiracy that denied the APC in 2014 in Ekiti no longer existed. "We thank God that we have swept them away. I was on my way here from Edo in 2014 when Fayemi was seeking reelection when the PDP stopped me at Benin Airport, even as a sitting governor. PDP was known for abuse of power and their days were gone. Ekiti is the most educated state in Nigeria and I knew you voted for Fayemi in 2014, because Ekiti has highest pupil enrollment in schools then and I know that a state that is highly educated like Ekiti could not have voted for a roadside banana eater. On July 14, it is one man, one vote, one woman, one vote. Your votes will count this time. Nobody will tinker with it," he said. a similar view was canvassed by the chairman of the APC National Campaign Council and Kebbi State Governor Bagudu. His words: "If Ogun, Ondo, Lagos, Oyo, Osun, Plateau and Kebbi could embrace APC, Ekiti must do same, because we represent progress," he said, just as the governors of Ogun, Odsun, Kogi, Oyo, Kwara, Ondo and Bauchi states reminded the people that their vote was their power to user in a new dawn in Ekiti.
Another striking moment at the rally was when the APC national chairman formally received a former Minister of Communications and immediate past national publicity secretary of the PDP, Prince Dayo Adeye led other PDP defectors to the APC. While Oyegun disclosed that Adeyeye had eventually caved in to sustained pressure from the APC to dump the PDP, the ex-minister, on his part, said PDP in Ekiti was now consigned to the dustbin of history. He said: "It will never rise again; it has been uprooted and we will set it on fire. A lot of PDP members have defected to APC. This is the Deputy Leader of the Assembly joining APC…We have visited eight local government areas, PDP members are decamping every day and when the President comes here, all of them will show up because there is nothing like PDP again in Ekiti."
APC agenda
The standard-bearer of the APC believes his party is on a rescue mission in Ekiti as afr as the coming election is concerned. He says he is determined to return the state to the path of sanity and prosperity.  "We will be here to celebrate victory. I am humbled by the show of solidarity by our leaders," Fayemi told the pulsating crowd of party faithful, supporters, promising to restore welfare schemes to students and the elderly among other arrays of democratic gains. In fact, he promised the resuscitation of all his social service programmes, including social security stipends for the elderly people, entrepreneurship scheme, rural development, road construction and health services, as well as regular promotion and payment of the salaries of workers. While urging them to take his words as a bond, he added: "I will never ban okada or sack teachers and local government workers because I am not a promoter of sufferings. I made salary payment my priority, including payment of teachers' rural posting and core subjects allowances. We shall continue to fulfil this obligation, including looking for new ways to promote the welfare of all categories of workers." According to him, "It is simply inexplicable that in spite of all the federal support – the multiple cycles of bail-out funds, Paris Club refunds, regular monthly allocations, and other such monies, the state government is owing civil servants upwards of 10 months salaries.
Not only so, they have stopped the free education programmes we instituted, the free health and regular health missions we carried out, our social security programme for the elderly, and others. They have reversed the gains we made in infrastructural development, tourism development and every facet of human and socio-economic development. In practical and policy terms, these are the things we shall return to the people when we return to government. The APC administration to be sworn in on October 16, 2018, by the grace of God, would resume good governance that was cut short four years ago, and once again prioritise social investments in education, healthcare and other social protection programmes that reduce the cost of living, while raising the quality of life. This can however only be possible if you all ensure you secure your PVC in good time, and vote convincingly for the APC in the July 14, 2018, election. As we have been assured, the relevant authorities are guaranteed to deliver a free and fair exercise in which, this time around, the Will of the People would prevail, and the journey to reclaiming our land and restoring our values can commence in earnest," he said. Fayemi said he was humbled by the gesture of solidarity from the party's leaders, urging Ekiti voters to do the needful on July 14 by giving him their mandate. "By God's grace, July 14 is our date with destiny, a day PDP will be totally obliterated, a day that suffering will stop. We will reclaim our land, its day decency, discipline, decorum and good essence of democracy will return to our land." A former governor of the state, Chief Niyi Adebayo called on prospective voters to exercise their right to choose their governor on July 14, and dismissed calls by some groups that the Federal Government should not deploy soldiers and police for the election.
With just 19 days to the election, the day of reckoning is almost here, but the horse-trading can be further enriched if the main dramatis personae allow the music based on issues to play on. However, the whole world awaits to see how far the issues will sway Ekiti voters come July 14.