Why more women should join politics —Oluga, APC Rep candidate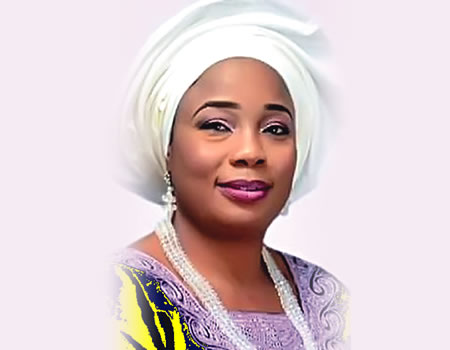 Mrs Taiwo Olukemi Oluga is the All Progressives Congress (APC) candidate for the Ayedaade/Irewole/Isokan Federal Constituency of Osun State. She speaks with MOSES ALAO on her plans for the constituency if elected, why more women should be involved in politics and the need to reelect President Muhammadu Buhari.
Tension in Iworoko-Ekiti as 15 confirmed killed in trailer accident
You are one of the few women gunning for a seat in the National Assembly if elected as a lawmaker, how will a lot of your constituents be better?
Honestly, I am out primarily to make laws that will be of immense benefit to my constituents, Osun State and Nigeria at large. You see, as a lawmaker, giving excellent and qualitative representation is the most beautiful way to represent one's community and these will be my hallmarks, if I am elected on February 16, 2019.
About being one of the few women seeking election into the National Assembly, it has been said times and again that women are not adequately represented in the nation's legislature. The arrangement we have currently flouts the Beijing Declaration, which recommends that women should have a certain quota in the governance of a country. But having said these, if elected, I will never see myself as inferior to my male counterparts in the National Assembly. Rather, I will always ensure I represent my people well by sponsoring meaningful and people-oriented bills that will have direct bearing on my people, moving and supporting reasonable bills and motions being put forward on the floor of the House by my colleagues for the overall development of the nation and making useful contributions to any debate in the House of Representatives.
Also, as my people have already known, I will create avenues for easy access to the constituents so as to know their needs and this will be done by keeping an updated constituency office in the constituency. As you may already have known, as a legislator, sometimes, there are opportunities to facilitate appointments into Ministries, Departments and Agencies of the Federal Government. I will seize such opportunities whenever they arise and this will be in addition to fast-tracking federal presence in my constituency and Osun State at large.
But I must tell you that my area of focus, if elected into the House, will be on girl-child education, because there is too much gap and I believe that as the saying goes, whatever men can do, women can also do it, even better.
 Constituency allowance is often a major point of discussion whenever Nigerians talk about National Assembly members. How do you intend to make use of such funds in a way that will not put you at the wrong end of people's comments?
I do hope you know that the constituency allowance is not really given to lawmakers anymore. What we have are constituency projects, which you can only facilitate through the appropriate MDA under which such project falls. If elected, I will do all I can to facilitate constituency projects that will not only complement the efforts of the state and Federal Government but also make life better for constituents. I know that the constituency can do better with more interventions in the areas of road construction, social welfare and employment, health as well as education.
But there is this tendency for lawmakers to become Abuja politicians immediately they are elected, how do you intend to handle this?
My style of representation will be an all-inclusive one; every constituent will be carried along in my day-to-day representation. I also intend to build on the good achievements of the outgoing representative of the constituency, Hon. Omidiran.
You talked about the Beijing declaration earlier, any advice for women on participating in politics?
Yes. I urge my fellow women to be actively involved in politics. They should not limit themselves to playing supportive and followership roles to men; rather, they too should vie for elective positions. You see, it is now high time the Nigerian society stopped regarding or treating women as second class citizens who are inferior to men. The number of women in elective positions in this country is too low when compared to men. So, women should gear up by way of contesting for elective positions. By this, gender inequality and disparity between men and women will become a thing of the past. In Nigeria today, we ought to have been producing female elected governors, vice-presidents and even presidents.
Your party is facing a stiff battle with the opposition Peoples Democratic Party (PDP) regarding the presidential election; do you think the APC can retain control at the federal level?
My major message to the Nigerian electorate has been that they should go all out on February 16, 2019 to use their votes to ensure the continuity of the APC administration. The bad governance of the immediate past government in Nigeria must not be allowed to return.
We all know how corruption ate deep into the fabrics of our society before the intervention of the present APC-led Federal Government led by President Muhammadu Buhari. Today, our economy has been improving greatly since Mr. President has been fighting corruption. For example, look at the amount of looted fund that the Buhari administration has recovered while loopholes where funds can be looted have also been blocked. We should commend this government's efforts in the area of economic recovery and employment generation since 2015. One of those efforts is in the area of government encouraging agriculture and local production so as to discourage overreliance on crude oil.
Much have also been achieved in the area of power generation; currently, Nigeria's electricity generation has increased from 2,500MW to 7,000MW, thereby making the economy to improve more.
With all these and many more, which I think are quite obvious to Nigerians, it is clear that the APC deserves to continue in office and I am sure Nigerians will make that possible in next month's elections.