Obasanjo's many letters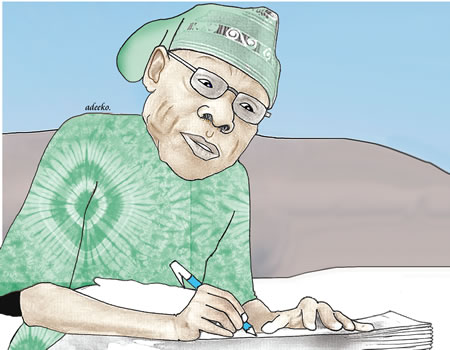 THAT Olusegun Obasanjo loves writing letters is no longer a matter of conjecture. He has written many especially to the men in power. In those letters he claimed and still claims to know better than all the past and present leaders of Nigeria. No doubt, he has been in the corridors of power longer than any of his contemporaries living or dead. But events in Nigeria today make him to become an anachronism. The letter released by Obasanjo on Sunday apparently to Muhammadu Buhari is to say the least incendiary. The fact remains that Obasanjo alone does not possess the monopoly of knowledge about Nigeria. People are beginning to see him as histrionic: pure and simple.
Of course he is luckier than most of his compatriots on the seat of power. Providence put the highest office in the land on his laps in 1976 after the murder of General Murtala Ramat Mohammed. The same divine power gave him the presidency in 1999 after he was released from Sani Abacha's gulag by Abdulsalam Abubakar. His re-election in 2003 was tagged "do-or-die". That election was globally seen as rigged. And in 2007 after a failed third term agenda the election which he midwifed for his godson, the late Umaru Musa Yar'adua was one of the worst elections ever conducted in the history of Nigeria. The late Umoru Musa Yar'adua acknowledged this at an international event.
A fratricide will not want anyone armed with a sword to come near him even from the back. But one begins to fear whether or not Obasanjo is senile. Otherwise he possesses no moral right to preach free, fair and transparent election. No.
Alao Ajala,
Ogbomoso.