Buhari's government lacks integrity, condones corruption ― Saraki
· Marafa faults Saraki's figures on oil importation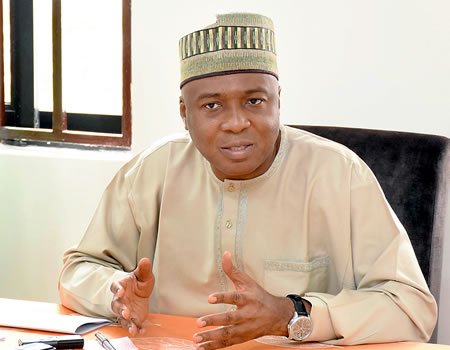 Senate President Bukola Saraki has carpeted President Muhammadu Buhari for lacking the much-trumpeted integrity adding that the management of fuel subsidy regime was enough to pooh-pooh the President's integrity.
The Senate President, who appeared in an interview session on the Africa Independent Television(AIT) on Wednesday, said that the much-vaunted integrity of President Muhammadu Buhari cannot be substantiated in view of his performance in the last three years.
According to him, the management of fuel subsidy payments put serious question marks on Buhari's integrity adding that whereas the administration of former President Goodluck Jonathan was accused of condoning corruption when it based subsidy claims on 30 million daily fuel consumption, Buharis government had based daily fuel consumption at 50 million.
He stated that massive fraud had dominated the management of fuel subsidy regime despite repeated calls by the National Assembly for openness.
He said that the Nigerian National Petroleum Corporation (NNPC), was cheating Nigerians with not less than N1billion daily from the amount meant for the subsidy.
He said: "In 2011, one of the major issues of departure with the former President, Goodluck Jonathan on the issue of integrity and corruption, was on false subsidy. Remember I got up and raised a motion on the floor of the Senate that a government, saying that could allow over N1trillion on false subsidy in the opaque and non-transparent manner it was going, especially when we knew that a lot of money that was being spent, was being siphoned, because the country was not consuming the amount of volumes that were being registered; that time, they were registering 30million litres on PMS (Premium Motor Spirit).
"But experts had done an analysis to show that there was no way Nigerians could consume 30million litres. Therefore, people like myself, that was where we departed, how we labelled Jonathan's government as corrupt.
"Now, it is shocking and alarming that the fuel subsidy matter is worse today. Instead of 30million, the government is saying that we're consuming 50million litres. And we know it's not true. So, money is being siphoned. So, even if you say that Jonathan was corrupt for fuel subsidy that he was doing at 30million litres, today's government that is doing 50million litres, what do you call it?
"The worst is that till now, they're doing it without appropriation. So, my conclusion is that you cannot give them integrity. You cannot. We (Senate), have cried out over these issues, but we have got stonewall. For two years, I have maintained my argument with the executive that you cannot do this. You have to bring this for appropriation.
"We set up a committee to look at it, but in a government, where agencies under the executive are encouraged not to respond or made to understand that they are accountable to the National Assembly, is a challenge. We have done our own part to raise it and to say this can't continue.
"You talk about integrity, you cannot talk of integrity about a government that allows this to go on. As I said, about Jonathan, we all cried corruption, it was largely on the issue, because when we talk that the country is losing money, the greatest culprit is NNPC. When you are losing about N1billion on a daily basis, in a government that is claiming to be fighting corruption, then it raises a big question.
"Subsidy, on its own is not where the fraud is, if managed transparently and efficiently. But where Nigerians are being told that they consume 50million litres a day, is the issue, because it is a lie. We don't consume that much. So, that money must be going somewhere. The volumes involved are huge.
"So, the point is that in 2015, this was what we used to assess that Jonathan's government was corrupt. So, our problem is that it has not got better and we expect it to be better under a government that every minute is claiming to have integrity, it has not got better, it has got worse."
But the Chairman, Senate Committee on Petroleum (Downstream), Senator Kabiru Marafa faulted Saraki's claims in an interview with Senate correspondents on Wednesday.
ALSO READ; 2.1bn litres of fuel trapped at Lagos ports —Ex NIMASA DG
Senator Marafa said in an interview that findings by his committee revealed that Nigerians are not consuming more than 30 million of litres of fuel per day.
He also said it was not possible for the nation to spend up to N2.4bn ever day to subsidise fuel.
He said: "It is not possible to spend N2.4bn on subsidy in Nigeria every day. Even though we don't have the exact figure but it ranges between 25 to 35 million per day, depending on the circumstances.
"Even if we are selling 30 million litres per day at N145 per litre, it will amount to N4.3bn. If you say that government is subsidizing by N2.4bn, are we saying that government is selling at half of the amount?
"The landing cost of PMS (Petrol) is N180 that means the government is subsidizing maximum N40 naira per litre. If you multiply that with 30 million litres, it cannot be up to N2.4bn.
"I don't want to join issues with the Senate President. I don't know the particular committee he mandated to carry out his investigations but if he said so, it must be for the purpose of winning elections.
"From the records at my disposal, Nigeria is not consuming 5o million litres per day. It is not possible. Even if the nation is paying subsidy at all, it is being taken from the running cost of the Nigerian National Petroleum Corporation."