Federal University Kashere: I played key role in its establishment, says Nafada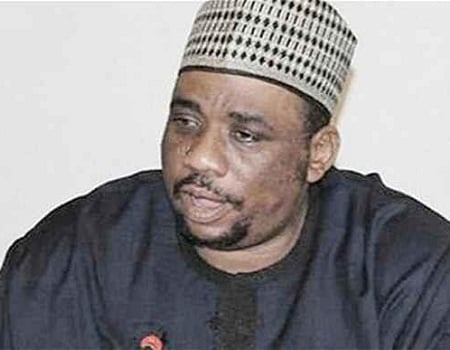 THE Gubernatorial candidate of the Peoples Democratic Party (PDP) in Gombe state, Senator Bayero Usman Nafada on Thursday said that he played a key role in ensuring the establishment of the Federal University in the state and the choice of the location in Kashere.
While lambasting the  immediate past Governor of the state, Senator Muhammad  Danjuma Goje, who is  representing Gombe Central and leader of the All Progressive Congress (APC) in the state, for constantly accusing the PDP of failure, Bayero Nafada cited  that the only  Federal University in Gombe  state was built by the last administration and cited in Kashere which is  Goje's hometown.
Bayero Nafada who disclosed this while on a campaign tour in Kashere, said "I want you to take note of the fact that the only Federal University in Gombe state and located here in Kashere was built by the Jonathan led administration and I played a major role in bringing this University not only in Gombe but to Kashere".
ALSO READ: 2019: DanKwambo gets PDP senatorial ticket as candidate steps down for him
He further explained that, ''I remember when I called the then President Jonathan and booked an appointment with him and we went with the then Gombe State Governor, Senator Danjuma Goje, Dr Jalo Daudu, late Dr Kasim, Amina Muhammed among others to lobby for the allocation of the Federal University in Gombe State and when Goje stood up and presented our request, Mr Jonathan outrightly turned it down for some obvious reasons and I had to stand up and begged the President and he didn't hesitate to tell me that, he approved my request. After that Goje, called me and pleaded that the university should be located in Kashere to which  I obliged.''.
The gubernatorial hopeful then appealed to the People of the district to vote for him and other candidates of the PDP in the February 16 and March 2 elections in other to consolidates on the gains and uncommon stewardship of Governor Hassan Dankwambo led PDP administration.
''I came here not to do any campaign or rally but to greet our traditional leaders and to assess the situation on the ground and I have seen the situation and I now know what are your priorities. I assure you, I will  make sure Kashere is transformed like Zaria and be regarded as the state's citadel of knowledge.'' He promised.