Fire guts INEC office in Anambra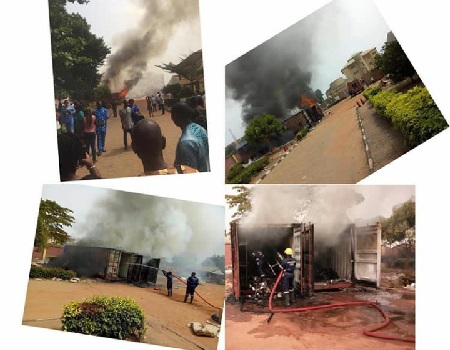 TWO containers containing configured card readers and other sensitive materials for Saturday, 16 February 2019, Presidential and National Assembly election were gutted down by fire at the office of the Independent National Electoral Commission (INEC), in Awka, the Anambra State capital.
The fire, which source remained unknown, started at 2.14pm, razing the entire containers before arrival of officials of the Anambra State Fire Service as at 2.40pm, on Tuesday.
A source, who spoke on a condition of anonymity because he was not authorised to address the press on the matter, maintained that the fire could be due to overheating resulting from the card readers connected to the containers, possibly for recharging them ahead of Saturday's Presidential and National Assembly election.
An eye witness, who was at the office for collection of posting letters as INEC SPOS, said that the fire started at a portion and was put off, but that it increased and escalated to other places.
According to the witness, "we were sent outside when the fire escalated, raising dust everywhere. We had come to collect our posting letters. We were told to drive out or park out our properties in case the fire guts the entire building."
ALSO READ:  BREAKING: SDP suspends Gana, Duke for anti-party activities
Confirming the story, Dr Nkwachukwu Orji, the Resident Electoral Commissioner in Anambra, said that only smart card readers and other sensitive materials were in the burnt containers, which according to him had been in use by INEC since 2011.
He said the total card readers in the burnt containers were  4,695 and were meant to be distributed to all the polling units across the 21 local government areas of the state.
On whether the fire incident would prevent election in the state, Dr Orji said they will first study the outcome and come out with a report in due course.
"We have to access the situation before we come to a logical conclusion on materials destroyed. I don't know if the materials were configured, because I am just arriving the office," he added.