Music Tourism: Nigeria loses $5b annually —Emmanuel Akapo, President, Tenstrings Musical Institute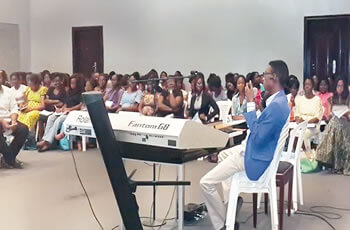 A call has gone to the Federal Government to harness the potentialities of the musical sub sector of the tourism sector in shoring up the economic base of the country.
Mr Emmanuel Akapo, The President,  Tenstrings Musical Institute, who  made this call in an interview with TTM in his office in Lagos, lamented  "My brother , Nigeria is losing over $ 5 billion in revenue for its inability to harness, organise and synchronise the musical tourism potentialities within the economic rhythm of the nation."
The man who has trained over five thousand musicians in Nigeria declared "Nigeria's musical tourism sector is the biggest in the whole of Africa with clear advantages of its uniqueness, varieties, styles and form. There is no country in Africa which can rival Nigeria when it comes to authentic African music. But it is sad that there has been no conscientious efforts at tapping these assets for the enhancement of the people and the country."
Mr Akapo revealed "It is sad and regrettable  that our country  does not see the golden egg in the musical tourism despite having been blessed with various kinds and forms of music's, musical festival and human capacity to do this."
He pointed out "Nigerian music stars have registered the impact of Nigeria on the international scene even which cultivated to them many awards, respect for the country and regard for its music industry. But that is where the music stopped."
Mr Akapo said "We should leverage on these legacies and musical marks made and still being made by the musical enigma as Victor Olaiya, late IK Dairo, Fela Anikulapo, King Sunny Ade, Ebenezer Obey , KWAM 1 , and others "
He further opined  " South Africa, Canada, Ottawa, Toronto  rake in millions of dollar from  jazz festival, while Jamaica,  Trinidad  and Tobago, are smiling to the banks with Raggae Sunsplash, their positives are there for Nigeria to rake in millions of dollars from music festivals if we take time to organise them."
Mr Akapo revealed "The musical assets in this country are unquantifiable. Nigeria is leading the Hi Pop scene; we have maintained a space in the high-life genre. We have hold in the reggae particularly in the sub region, we are in the afro – funk. We have "both the Juju / Fuji fusion. Over all, we have what it takes to organise bi – annual mega musical tourism festival in Nigeria.
Apart from the upper and low hanging   fruits and benefits which musical tourism will  engender  to the nation, Mr Akapo said "already we have over 7000 Nigerians who I have trained in the art of music and lyrical composition and  who are not only doing well, but who can be useful in packaging and organising the musical festivals ."
He added that musical tourism would not only cultivate foreign revenue but also stimulate domestic wealth."Essentially, it will create employment opportunities as many will either take to inauguration of studios, musical equipment repairing and rental service, music writing and composing."
Mr Akapo said "the music festival of Insomniac contributed over $ 3 billion to the US economy by staging only 48 shows in recent years. Insomniac, the dance music promoter in the US employed   Beacon Economics, a consulting firm, to showcase how its activities have contributed to the economy of US —everything from travelling fans splurging on restaurants to local firms seeing a bump in business . This can happen in Nigeria if the government, we in the music sector and the public can come together and inaugurate a Mega Music Tourism Festival.