Lucrative s**t! How some individual profit from lack of toilets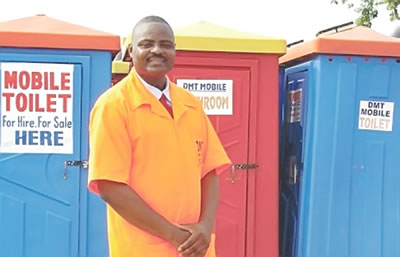 On the occasion of 2016 World Toilet Day, NEWTON-RAY UKWUOMA and TUNDE ALAO undertook a tour of Lagos, Nigeria's most populous city, reporting that though many Nigerians lack access to toilets (UNICEF puts the figure at 120 million), some individuals are turning the 'dirty business' into clean money.
CALL it human waste or whatever you like. You may even suggest that it is of no value, but those who are in the business of it knows that it fetches cool money that does not smell. Welcome to the world of those who make money from disposing what is normally called human waste or shit, if you like.
Yesterday was World Toilet Day, an annual event celebrated worldwide to draw attention to sanitation and the more than 2.5 billion people globally who do not have access to toilets. In fact it is said that more people all over the world have access to mobile phones than toilets.
The effects of this is that millions of people engage in open defecation, thus setting in motion a series of activities which often lead to diseases and even death, as it has been discovered that in countries where this activity abound infant mortality is always very high.
Coincidentally, this year's celebration is 'Toilets and jobs.' Therefore, for those whose job it is to manage human waste disposal, coupled with the statistics on those who lack proper sanitation, complaints about lack of jobs are not likely to feature on their card.
In time past disposal of human waste used to be cumbersome and the personnel often work 'incognito,' working mostly at night, especially because of the stigma attached to the job. In the South-West part of the country, they were called agbepo (night soil men) and it was a job which was the exclusive preserve of people from a certain part of the country.
Unlike those days, human waste disposal is today a big business and gone were the stigma attached to the job. These days the practitioners are proud of their business as they are making lots of money from it. They even engage in poverty alleviation by reaching out to the poor, underprivileged and widows whom they set up in the business.
The man often regarded as a pacesetter in the 'shit business' though now late, was Isaac Durojaiye, popularly known as Otunba Gaddafi. Starting off in Lagos and gradually expanding the business across the country and the West African sub-region, Otunba Gadaffi gave new meaning to the business nobody wanted to associate with.
He had named the business Dignified Mobile Toilets (DMT) to underscore the dignity which he had hoped to bring into it. While comparing the business with what used to be, especially concerning the ignoble nature of it, Otunba Gadaffi during his lifetime said: "But all that is changing now. There is nothing to be ashamed of about human waste, it is a reality — we all have to answer the call of nature… I named it 'dignified' to show the world that there is dignity in the business."
Otunba Gadaffi started the business in 1992 after observing that there were only about 500 functional public toilets in Nigeria, a country with a population of more than 130 million people then.
His mobile toilets which were made of high quality plastic materials were available for sale, rent and for leasing. DMT maintained the toilets while its specialised trucks evacuated the human waste twice a week from each toilet.
The business still in existence has since inspired several other 'investors' who now operate under different brands. The clientele of mobile toilet operators include churches, individuals who organise social events and even governments at different levels.
An operator, Michael Adetunji, who works at Palm Grove area of Lagos, told Sunday Tribune that: "Our clients include churches, especially, when they have open-air crusades, wedding events, government and many others.
"Apart from the above, we have our spots in public places like the garages and market places where we registered with the concerned local governments and we pay our taxes regularly."
According to him, charges are determined by the number of toilet facilities requested for and number of days.
Another operator, who would not like his name in print over what he described as fear over taxation by local and state governments said: "We charge between N5,000 to N10,000 per hour depending on the status of the client. But for religious organisations, charges are on a daily basis, with rebate, if the programme or event uses tankers more than one day. This also depends on the status of such organisation. There is no fixed price."
Another Lagos-based operator who specialised in evacuation of waste, Mr. Timothy Ajani, confirmed that the job is highly rewarding.
"Indeed I am always happy to receive a call from people living in either Ikoyi, Ikeja, Magodo, even Surulere, because though they may need one's service maybe once in a year, but surely, it's not difficult for them to pay as much as N100,000,. Densely populated areas that may pay just N40,000, or a little more is always problematic. However, patronage in the densely populated areas is higher than the low density areas," he disclosed.
According to the Lagos Bureau of Statistics, there are currently 310 public toilets constructed by local governments in the state. Apapa/Iganmu Local Government Area has the highest number, 83 toilets and the lowest is in Yaba Local Government, which has just one. There are 16 local governments which has none at all.
The few public toilets are usually sublet to private operators who pay a stipulated sum to the local government every month. But this arrangement has not worked seamlessly as investigations revealed that many of the toilets are often dirty, even while users are mandated to pay a stipulated sum for their use.
Sunday Tribune visited some settlements  in the Lagos metropolis particularly areas such as Ajegunle, Badia, Ijora Oloye, Otto-Iddo, Agege, Bariga and some market locations, where toilet facilities are abysmally inadequate, and in some places, barely existing.
A visit to some market places like Ojuwoye in Mushin, Itafaji and Sandgrouse the Island and Oyingbo, also revealed a shocking development.
In these places, drainage facilities are blocked with human wastes, while black cellophanes bags wrapped with the same substance dotted the surface, adding to other wastes blocking the free flow of water.
A security man at Oyingbo market, who provided information, revealed that though, there are toilet facilities within the market areas, "immediately we close for the day's businesses, miscreants whose place of rest is the market do come and they are the ones messing up the drainage. Even, open places are not excluded."
But aside from market places, many neighbourhoods in Amukoko, Badia, Ajegunle and so on, lack modern toilet facilities, relying solely on pit toilets.
"For instance, here at Baale Street (Badia), what we are doing is to ensure that we dig a deep pit, covered with planks where people can ease themselves without any fear of epidemic," said Chief Kareem Alade, a community leader, who volunteered information on how the residents are coping, toilet-wise.
The above scenario is not different from other communities who are still making use of pit latrine for their conveniences.
But the case is different with residents of places like Makoko, Ilaje and other neighbourhoods whose houses are on top of the lagoon. To this set of people, the lagoon has provided a veritable opportunity.
"What we do here is to construct a room-like structure covered with either planks or corrugated iron sheets, create a hole in the middle where people will squat and do their things. We have no problem at all," said Adaka Sumuri, a fisherman resident of Makoko.
But where the situation would appear daunting for the authority is the number of homeless ones in the metropolis with hundreds of them taking refuse in the garages, bus stops, uncompleted buildings, among others. This set of people includes miscreants, beggars, destitute, among others.
Government intervention
However, investigation revealed that Lagos State government is not oblivious of the deplorable condition of toilet facilities in many parts of the state, especially, public places, hence the launch of a Master Plan that would address the situation.
Lagos State Ministry of Environment recently said that it had concluded work on a master plan for the provision of public toilets in parts of Lagos.
The Commissioner for Environment, Dr Babatunde Adejare, in a recent interaction with the media said the master plan was already receiving government's attention.
According to Adejare, there is need to provide public toilets all over Lagos and not just within the parks and gardens alone.
He stated that the document contains locations for toilets facilities within and around the metropolis.
"The ministry will also encourage market traders and shop owners to provide mobile toilets for use by themselves and their customers," he said.
The commissioner stated that his recent tour around the state revealed that many houses, especially in Lagos Central, piped their sewage direct into the drainage system.
"My findings revealed that some houses, particularly in Lagos Mainland and Lagos Island, have toilets, but no septic tanks, thereby forcing the ministry to demolish some illegal houses where sewage was piped into the drainage," he revealed, adding that for the structures that were officially approved, they have given them a time frame within which to provide septic tanks.
Besides, the commissioner vowed that it is no more business as usual in the state, warning home owners to comply with environmental laws.
He further explained that an amendment to the law which would include the ministry's intentions in that regard would soon be presented to the state House of Assembly.
But again these many communities without decent toilet facilities are ready market for the operators of mobile or static toilets waiting to be explored for clean smelling cash.
Statistics on sanitation by UNICEF
No fewer than 120 million people in Nigeria lack access to improved sanitation facilities, 14,000 Nigerian communities have attained open defecation free status within eight years.
Ekiti has the highest number of residents, among Nigerian states, who defecate openly.
Two in three Ekiti residents engage in open defecation.
Of Ekiti's 2.7 million population, 1.8 million engage in the unhygienic practice representing 60.8% of Nigerians who defecate openly.
In Ogun, over one million residents of the state engage in open defecation.