Dr Samuel Ogbemudia dies at 84: Nigerian reacts…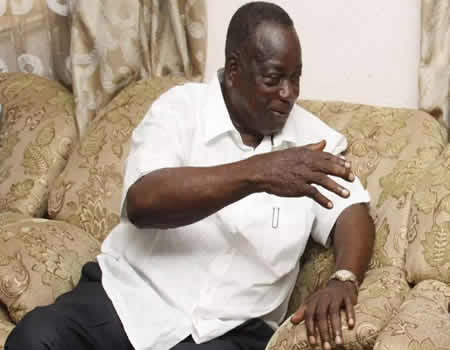 Prepares own grave before death
Dr Samuel Ogbemudia, former military and civilian governor of the defunct Midwest and Bendel states, is dead.
Mr Sam Ogbemudia Jr, confirmed the death of his father to journalists at the deceased's residence, on Friday, in Benin.
He said his father died on Thursday at a private hospital in Lagos at the age of 84, adding that he would miss everything about his father.
He said his father taught him almost everything in life, from childhood to adult, adding, "I learnt so much from him. He was a wonderful man. I will miss everything about him."
The late Ogbemudia was a former military governor of the old Mid-Western state from September 1967-1975.
Ogbemudia was elected governor of the defunct Bendel state in August 1983 on the platform of the National Party of Nigeria (NPN) and was in office till December 31, 1983 when the militery took over.
Meanwhile, family members of the deceased have disclosed that the late former governor of the old Mid-West prepared his own grave in his compound, long before his death and instructed that he would like to be buried as soon as possible because he did not want to be put in the mortuary.
It was gathered from a family source that Dr Ogbemudia became critically ill shortly after his 84th birthday after he fell in his house and suffered stroke.
The family member disclosed that following the accident, Dr Ogbemudia spent about three weeks at the University of Benin Teaching Hospital  (UBTH) late last year.
He diligently served Nigeria —Buhari
PRESIDENT Muhammadu Buhari, on Friday, extended heartfelt condolences to the Ogbemudia family as well as the government and people of Edo State on the death of Dr Samuel Ogbemudia, a former governor of the defunct Mid-West region and old Bendel State.
A statement issued by Special Adviser to the President on media and publicity, Femi Adesina, said Buhari joined them and other admirers in mourning the elder statesman "who diligently served the country with courage and dedication at crucial moments in its history, both as military governor and a democratically elected civilian governor."
The statement expressed the president's  belief that the late Ogbemudia, who had a distinguished career as a military officer, administrator and federal minister, left an impressive legacy of hardwork, discipline and commitment to communal, state, regional and  national development.
The president recalled the unique role of the elder statesman in the nation's return to civilian rule in 1999 and trusted that, as a tireless advocate for equity, he would be long remembered and honoured for his dedication to the advancement of his people, especially in the fields of education, social welfare and infrastructure.
He prayed that God Almighty will comfort all who mourn the late Brig.-Gen. Ogbemudia and grant his soul eternal rest.
Ogbemudia's death a colossal loss —Saraki
Senate President Bukola Saraki, has described the death of the late Samuel Ogbemudia as shocking and a colossal loss.
In  a statement signed by his Special Adviser on Media and Publicity, Yusuph Olaniyonu,  Saraki described Ogbemudia's death as a colossal loss to the country, especially coming at a time  Nigerians are still mourning the demise of another elder statesman and former governor of the defunct Western Region, General Adeyinka Adebayo.
He noted that Ogbemudia's death has robbed the entire country of an intelligent officer, dynamic  administrator, focused gentleman and a leader par excellence, who served his country and people meritoriously.
"Ogbemudia was a man of the people. His humility and courage stood him shoulder high above many of his contemporaries. We shall all miss him," Saraki said.
I felt a deep sense of loss —Uduaghan
The immediate past governor of Delta State, Dr Emmanuel Uduaghan, has said that the news of the death of Dr Ogbemudia came to him with mixed feelings of a deep sense of loss and gratitude to God for a life well-lived in the service of his fatherland, his state and humanity.
Reacting to the demise of Ogbemudia, Uduaghan said he left a giant and indelible footprint in the sands of time for which posterity will always remember him.
He said future generation of leaders have a lot to emulate from his stewardship, especially his robust vision, exemplary leadership and zeal to deliver good governance to the people.
He noted that both in Edo and Delta states, which made up the defunct Bendel State, Dr Ogbemudia set a record of unparallel development which has served as a benchmark for governors who came after him.
He said in the areas of education, roads, health, communication, and other social infrastructure Ogbemudia proved himself as "a leader with great foresight and can-do spirit"
He was the architect of modern Edo, Delta state —Igbinedion
Former Governor Lucky Igbinedion of Edo State recalled the giant strides of the late Dr Ogbemudia, describing him as the chief architect of the great development strides of the now Edo and Delta states.
In his condolence message, described Ogbemudia as an astute administrator and later, a politician of remarkable pedigree, whose advice and selfless service to Edo and indeed humanity would be greatly missed.
He was a hero in many respects —Mark
Immediate past President of the Senate, Senator David Mark, described the late Ogbemudia as a hero in many respects, describing him as a progressive leader who laid the foundation for the present day Edo and Delta states.
Senator Mark, in a condolence message, signed by his media aide, Paul Mumeh, noted that Ogbemudia was a patriotic and detribalised Nigerian who was among senior military officer that stood to be counted in the fight to keep the nation indivisible.
He said the landmark legacies of Ogbemudia included, but not limited to the establishment of the University of Benin, Ogbemudia stadium as well as the Bendel Textile Mill, among others.
The former Senate President therefore enjoined the governments of Edo and Delta states to immortalise Ogbemudia in recognition of his contributions to national development, noting that he will be remembered for his political sagacity, bravery, wisdom and as a very successful manager of men and resources.
He was a role model —Oyinlola
Former Osun State governor, Prince Olagunsoye Oyinlola, has also described the death of Ogbemudia as the end of an era.
Prince Oyinlola, who described Ogbemudia as a highly respected senior member of the military class in Nigeria, said his death has made the nation poorer.
"He distinguished himself as military governor of the defunct Mid-West state as well as governor of the old Bendel state. He did so well that his tenures became the benchmark by which all other governors in Edo State have been measured.
"He was a great man by all standards. Those of us who were his juniors in the military took him as a role model in all respects. We will miss him," he said.
Exit of an icon —Edo PDP
The Edo State chapter of the Peoples Democratic Party  (PDP) has described the death of Dr Samuel Ogbemudia as the exit of icon.
In a statement by its publicity secretary, Chris Nehikhare, the Edo PDP said Ogbemudia was a trailblazer, who set a standard for measuring development.
The party said, "He was the SI unit for measuring development, government impact on citizens and performance. He was a role model and father figure to all.
"We extend our deepest sympathies to his family as well as the good people of Edo and Delta states on his passing to the world beyond."
The man, Ogbemudia
An adage says a prophet has no honour in his hometown. But that was untrue with Dr Samuel Ogbemudia, who had an uncommon privilege of presiding over his own state as military governor of the Mid-West State between October 26, 1967 and July, 1975 and as civilian governor between October, 1983, and December, 31, 1983.
The appointment of then Major Samuel Ogbemudia was a departure from the standard practice of posting military administrators outside of their states of origin. This enabled him to preside over the affairs of his home state (now Edo and Delta states) for eight straight years.
He returned in October 1983 as civilian governor, writing his name in history book as the only Nigerian to have served his state as a military administrator and civilian governor.
While he was hounded out of office just about three months into his civilian administration by the military government of Gen. Muhammadu Buhari and thrown into detention, his deeds as military and civilian governor had etched him into the hearts of many in his home state such that he became the yardstick by which the performance of latter governors and political leaders were measured.
The story of Ogbemudia's achievements were told those, who were not born before 1965 and 1975 when he ruled as military governor and October, 1983 and December 31, 1983, when he was a civilian governor and they marveled.
Gov Obaseki declares 7-day mourning
Governor Godwin Obaseki of Edo State has declared a 7-day mourning, commencing from Friday, in honour of the late Dr Ogbemudia.
In a statement by the interim chief press secretary to the governor, John Mayaki, Obaseki described Dr Ogbemudia as a fine military officer, who helped liberate the Mid-West Region during the Civil War, adding that the old Bendel State became a leading state in education, sports and industry under his administration.
Obaseki said, "As we mourn our great leader and father, we take solace in the legacies he bequeathed Edo State and indeed Nigeria
"As a mark of honour, I hereby declare 7 days of mourning commencing from today."