Why I motivate youths against rape, domestic violence —Foluke Daramola Salako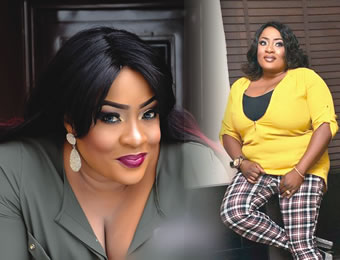 Star actress, Foluke Daramola, turns heads wherever she steps into. In this interview by JOAN OMIONAWELE, she talks about her passion for youth mentorship, marriage and career. Excerpts
Why  have you taken up the responsibility of advising young women against issues like rape and domestic violence in recent times?
I have decided to be a motivator to the youths, especially the female gender, reason being that I believe that Nigeria is a country that is vast and rooted and we are getting our priorities wrong.
How do you mean?
We are the ones causing these problems we are facing by ourselves. If you trace the causes of domestic violence, you will find out that it is  that woman who  does not understand her own value, that  allows herself to be abused by a man. If you see it coming, check it.   Nowadays, women are so dependent on their husbands and  apart from  the fact that they are not themselves, most of them  all live a lie. And because we live a lie, we cannot sustain that lie, so to sustain it, you depend on a man and that man will take her for granted and take advantage of her, although not all men do this.
Apart from the fact that I have been abused and raped when I was younger, I have been through a marriage and what is fundamental and what I preach to the younger generation is that at the end of the day, one will go into marriage as a partner and if the partnership isn't strong, there will be retrogression, so I'm most passionate about my country and about the youths.
It's commonplace these days to see celebrity marriages hitting the rocks, why do you think this is becoming rampant?
First and foremost, I don't think it's only celebrity marriages that do not last these days, it's very general, but I think we are fast losing the hold and be able to tolerate each other. It's not about celebrities, it's just because we are in the limelight, so the tendency of it getting out there when it happens is very high.
Secondly, the pressure of the economy can affect the male gender  as well.  Here in Nigeria, there are a lot of sentimental attachments, so the pressure will be put on the partners, if it's a beautiful  woman, there would be a lot of pressure on her, from the money bags who will promise her so much.  I am not talking from the celebrity point of view here but the general sense . We have a lot of people who have set the pace, for instance, Joke Silva, Omotola Jalade and Toyin Adewale, but because we are in the limelight, it will certainly raise a lot of buzz, and if one is not prayerful and possess a right mindset, one will get swayed. Inasmuch as I like to be seen as a celebrity, I also like to be seen as a rooted person and a realist, who is passing a vital message to the younger generation.
This is Nollywood and not Hollywood, do not start living a life that you cannot sustain, if your husband earns N300,000 a month, don't go and buy a weavon of N150,000. If  you do, you will then have to add other things which end up bringing undue pressure on your home and before you know it, the home will break,  so it's important to place less emphasis on the physical and more emphasis on what you cannot see.
I read your husband's message to you on Facebook a while ago and he really extolled your values and praised you…with all that, what length are you willing to go to make this marriage work?
I have always said this, although people think I can't do it.  If I have a case of infidelity, I will deal with it. It won't break my home, it will come as a phase and it will pass. The only thing which I know can break my home and I pray against,  is domestic violence or abuse of any kind, because that will kill me psychologically and bring out the worst in me, but my mum has made me to understand that every man is a child, and once you understand that,  ko si bi ori se mari ti kofi ni  mi(nobody is infallible), once you understand that, you are mothering that man and  you will be able to sustain the home.
I learnt from my first marriage that not all that glitters is gold and the grass is always green on the other side, a woman is in a marriage as a wife and a child. She is not there to compete with her man because of  ego.
Behind the cameras, who is Foluke Daramola?
I'm blunt and straightforward,  I'm a mother who loves to cook. I enjoy quiet moments with my children and I'm not a fanatic, but I'm a very  prayerful person.
We've seen a lot of your colleagues fizzle out, what has kept you going?
God has kept me going and also it's a matter of one daring to be different and thinking outside the box, so far we haven't spoken about my life as an actress in this interview, that's to show you that at each point in time, one has to be able to think outside the box, because as an actor, when the ovation is loudest, you have to take a bow and if you do not plan for your back stage, you will fall and frustration will set in. Showbiz has never taken me away from the reality of being myself, I still see my friends as my friends, if I still feel like taking boli [roast plantain]I take boli, if I still feel like riding bikes, I ride bikes. So stardom has not gotten into my head.