Union Bank Centenary Art Challenge commences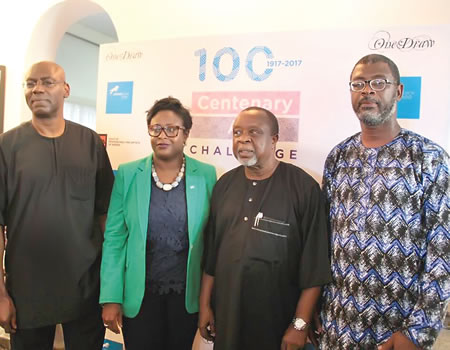 THE Union Bank Centenary Art Challenge for Nigerian professional and amateur artists has commenced.  Organised as part of the 100th anniversary celebrations of the bank, the competition is in partnership with One Draw Gallery and is endorsed by the Guild of Professional Fine Artists of Nigeria (GFA).
Speaking at the launch of the contest last Friday at Mydrim Gallery, Lagos, chief executive officer of Union Bank, Emeka Emuwa, said the bank wants artists to re-interpret and re-design its brand identity, the iconic stallion
Emuwa, who said the competition would run till September, disclosed that in 2015, Union Bank redesigned the stallion to reflect a more agile and energetic institution following its transformation. The exercise, he however noted, was undertaken by bankers and not artists.
"Union Bank has a storied history in Nigeria and our 100th anniversary is a unique opportunity to tell our story to different audiences.  Artists are storytellers and this competition presents an opportunity for this community to help us tell our story from the vantage of our iconic white stallion. We are excited to celebrate the many stories that will come across through the works that will be entered in the competition," he said.
Entries, which can be paintings, sculptures or mixed media, will be accepted across the country in various regions while a panel will shortlist the 100 works that will compete at the finale.
Also speaking at the occasion, the CEO of One Draw Gallery, Segun Adejumo, revealed the monetary prizes attached to the contest. The ultimate winner will receive N1 million in the professional category and N250,000 in the student category; all contestants, however, must be above 25 years.
Head, Corporate Affairs & Corporate Communication, Union Bank, Ogochukwu Ekezie-Ekaidem added: "Talent development is one of our social responsibility focus areas and this competition is another initiative for Union Bank to impact in this area. We strongly believe that through the arts we can spur creativity and innovation in young people."