Esohe movie premieres in Houston, Texas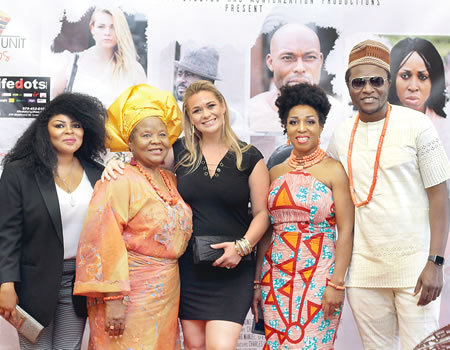 It was a night of glitz and glamour in Houston Texas, USA as Nollywood celebrities including Uche Jombo, Moses Efret, Bode Ojo, Alex Mouth, Charles Billion, Tila Ben,  Bless Brown Vera, Christabel Momodu, President of Nollywood in Houston, Papa Gee graced the premiere of the Bini Epic movie, Esohe.
The movie drew a large capacity of viewers and was screened twice to accommodate the mammoth 'crowd' who came out to have a feel of the African culture. Some of the cast were dressed in Bini regalia for the meet-and-greet session, arousing nostalgia among the audience of African descent.
Set in ancient Benin Kingdom, the movie stars Jimmy Jean Louis, Misty Lockheart, Desmond Elliot, Chris Attoh, Bimbo Manuel, Ufuoma McDermott, Toyin Aimakhuo, Jemaima Osunde and Monica Omorodion Swaida.
The movie also featured fast-rising Nollywood actors such as Eunice Omorogie, Omoye Uzamere, Oghenekaro Itene and Osagie Elegbe.
According to the brains behind the new flicks, which is expected to continue its tour in Dallas June 3 , Austin June 16 and 18, while a release party will hold on June 17 in Boston.
"Esohe," details the reincarnation and reunion of Ifagbai, the son of Eghosa, the Oba's warrior, his long-lost lover, Esohe, presents a puzzle to Gary Barbar (Jimmy Jean Louis). He suffers repeated nightmare and sees apparitions of events he knows nothing about.
The story by Charles Uwagbai and Efetobore Ayeteni, was written by Bimbo Manuel, while it was produced by Charles Uwagbai, Monica Omorodion Swaida and Robert Peters.