No producer is better than me… —Krizbeatz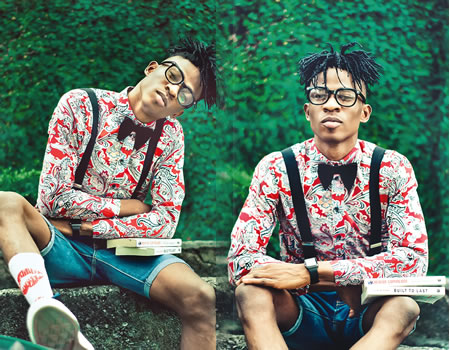 Music producer, Chris Alvin Sunday, also known as Krizbeatz, rose to fame after producing Tekno's Pana beat and has remained on top of his game since then. He speaks with SEGUN ADEBAYO about his career and why he wants to venture into real estate and agriculture.
Krizbeatz is fast-becoming a phenomenon in the music industry and you seem to be having a good time being rated one of the most sought-after music producers. How would you describe the experience?
I am just like any other man doing what he loves best and paying attention to his craft. People say I work hard while some even say I don't rest enough to enjoy the success of my job. But what I always tell people is that God gave me the talent and He alone has sustained my life and career till today. Looking back at how it all started and where I am today, I know it couldn't have happened without the grace of God. The experience, for me, has been great because I am passionate about what I am doing and I am always striving to get better at it. I have set a number of records for myself in the last few years, which I have beaten by the grace of God. So, right now, I want to set new records, keep the game strong and keep working hard. My dream is simple: I just want to keep getting better.
What was that thing that pushed you into music production and sound engineering?
Music has always been part of me. I don't think of something else but music. I didn't just get to this level. It has been a long-time thing. I really don't like to sound spiritual, but I strongly think God deposited music in me. I said this because since I was young, music was the only thing that worked for me. I didn't really pay attention to other things, because I knew music was the main thing for me. I may have failed at other jobs, but music brought out the best in me. It helped me to get to that level I have always dreamt about. For me, music is the only thing I know how to do best. Nothing else works for me like music. I just love to create different sounds with music. I love to keep doing something new every day. There is actually a whole lot of stuff about me that I am even yet to discover.  I am just taking it one step at a time as I discover every bit of my God-given talent.
You may have produced different beats for artistes, but producing Tekno's Pana was the turning point for you. Do you agree with that?
Okay, let me answer you this way. I didn't just start producing music for artistes. I have done a whole lot of stuff for different artistes over the years, and every production pushed me closer to the big break. It was not as if Tekno was the first big hit song that I produced, but I will say that producing Pana for Tekno gave me the biggest exposure of my life. It pushed my career to the point I don't have to struggle to be known anywhere I go to. Once you hear Pana, you hear its Krizbeatz the Drummer Boy. The song put my career on a different level and I am thankful to that our fans love the sound of Pana. I am very happy that things worked out perfectly for Tekno and me. It was a big song that will remain evergreen for years. Nevertheless, songs like Owambe by Jahbless and Angelina by Reminisce engineered me to the point where Pana took me. So, I can say that Pana took me to the next level.
What was it like growing up in Ibadan and relocating to Lagos where people say you now live like a king?
Who told you I live like a king? I am still that humble boy from Ibadan. Nothing has changed about me and nothing is ever going to change. I am never going to change because I now live a famous life. No. I don't even see myself the way people see me and that's why I keep asking those who are close to me never to spare the rod when they notice anything is changing about my character. Talking about Ibadan, yes I grew up in Ibadan and I schooled in Ibadan from the nursery to the tertiary level. Ibadan was fun for me when I was growing up. It actually shaped my career and prepared me for the big task ahead. Without sounding immodest, I was actually the hottest music producer in Ibadan before I left for Lagos. There was actually no hit song in that city when I was there that didn't have my imprint. The story of my life is not complete if Ibadan is not mentioned prominently because as far as I am concerned, I left Ibadan to rule Lagos. You can call me that Ibadan boy who came to Lagos to excel.
If you were that big in Ibadan, why did you leave? How could you leave your comfort zone?
I was already big in Ibadan but I wanted more out of the job. I didn't want to remain a local champion. I wanted to take the battle to Lagos and face the big players in the music industry. Lagos has always been home for me, but I felt I needed to come down here finally and master the game better. So, coming to Lagos, for me, was like coming back home. When I came back from South Africa, where I had gone to study music technology, the best thing I could do for myself at that time was to go back to Lagos and face the music business with all seriousness.  I had to leave Ibadan because I didn't want to remain a local champion, and I thank God that the decision has paid off in a big way for me.
You produced Tekno's Pana and your profile rose with envy. What inspired that beat as it now seems to be very common in the industry now?
There is a lot to that beat that I am not going to talk about now. It is a tale for another day. Basically, my experience in fusing electronic dance music of the Europeans and our own Afro beat worked out perfectly for the beat that has continued to trend for almost a year now. That beat changed the sound in Africa and you can see that a lot of producers now copy the same beat. I am happy to have produced a beat that many people would love to jump on but I am not resting on my oars. I am happy for that feat. I am grateful to God.
How have you been coping with the pressure of being one of the most popular music producers in Nigeria and perhaps Africa?
They always say fame is expensive, now I know what that means. It has not been easy, but I am coping fine. The heat is on but we can't complain because we want to keep working hard. I have a team that handles certain things for me, so I won't have to bother about things that I should be involved in. We all play our roles very well and we enjoy a smooth working relationship, which for me, is the best any business needs to stay afloat.
Many music producers have decried the poor fee they are usually paid by musicians, who go about making millions of naira off the beat producers make for them. How are you dealing with this development?
For me, I think the bulk of the blame is on the music producers because they have failed to raise their game to the point where no artiste will come and drop peanut on their tables for music production. As things stand in the industry today, if you want your brand to be respected and valued, you have to do the extraordinary. You have to build your brand to the point where artistes would have no choice but to dance to your tune because they know they are going to get the best from you. So, for me, I will say I am well paid because I have been able to prove my worth in the game.
You have joined the league of music producers who now feature artistes in their songs. Are you also planning to delve into music totally?
I may have featured artistes in my song but the motive is not for me to become a musician. I don't have the intention to sing. Apart from being a music producer, I am also a professional disc jockey. So, I am trying to perfect my transition into a DJ and still do my production. It's basically about brand-building like it's done internationally like DJ Khaled, Major Lazer and many others around the world.
Will you be dropping an album soon?
Yes, my album is almost done and it will be dropped very soon.  I have artiste like Yemi Alade, Tekno, Davido, Skales, Runtown, Seyi Shay, Sauti Sol and Reminisce on the project.
How would you rate yourself among other music producers now?
I am different and I would say I am a big producer now. No doubt about that.
 If you are to rate anyone of them above your level, who would that be?
It is not pride but I can tell you that no producer is better than me but then I admire Sarz and Don Jazzy a lot.
What was it like for you before you finally hit the limelight?
I was always looking for an opportunity to get a good artiste that can project and promote my sound to work with me.
 What do you intend to achieve with your music?
The first thing is greatness.  I want to be a great inspiration to generations to come. I want my sound to be a great reference for generations and when they mention African sound anywhere in the world, I want my name to be mentioned.
You don't intend to remain a music producer for life, how are you saving for the rainy day?
I would love to invest in agriculture and real estate soon.