Katsina farmers to cultivate 25,000 hectares of maize, soya beans – Association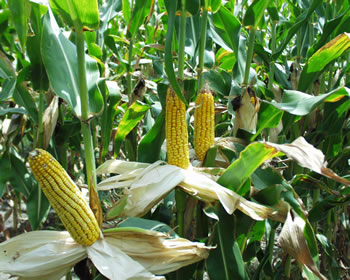 No fewer than 15,000 maize and soya beans farmers in Katsina State are set to cultivate 25,000 hectares of farmland this farming season to support the Federal Government's Food Security Programme (FSP).
Alhaji Bello Abubakar, Chairman of the Katsina State Chapter of Maize Farmers Association of Nigeria (MAAN), made this known in an interview with News Agency of Nigeria (NAN) in Funtua on Wednesday.
He said that the farmers were particularly determined to engage in massive production of maize, in line with the goals of the FSP.
Abubakar said that 250 workers, including zonal coordinators, local government supervisors and field assistants, had been engaged for FSP activities in the state.
According to him, six zonal offices in Funtua, Faskari, Malumfashi, Kurfi, Kankara and Bakori Local Government Areas have been set up coordinate the food security initiative.
"MAAN has signed a tripartite agreement with Nigeria Incentive-Based Risk Sharing System for Agricultural Lending (NIRSAL) and West African Soy Industries (WASIL) for increased cultivation of maize and soya beans in Katsina State.
"This adds to the government's efforts to enhance food security in Nigeria; the venture will further strengthen assistance to smallholder farmers in order to boost their farming capacity and self-reliance,'' he said.
Abubakar said that under the arrangement, the farmers would pool their harvested produce for sales at acceptable prices.
He said that measures were designed to prevent the farmers from defaulting in loan payment and side-selling their produce.
The MAAN chief urged farmers in the state to live up to expectations, saying that FSP represented a window of opportunities to smallholder farmers who constituted the majority of the nation's farmer population.
He lauded the collaboration between Business Innovation Facility (BIF), a UK Department for International Development (DFID)-supported organisation and Tropical General Investment (TGI), owners of WACOT Ltd., agric inputs suppliers, and WASIL, to buy back harvested goods under the FSP.
Abubakar said that the Memorandum of Understanding (MoU), which was signed in Funtua on June 9, would engender massive production of maize in the selected areas, while improving the wellbeing of the targeted farmers.
He said that the arrangements for the provision of farm inputs in the six local government areas had reached an advanced stage, advising farmers not to misuse the opportunities offered to them to develop their respective farms.
NAN reports that the MoU was signed by BIF Country Representative, Dr Soji Apampa, and TGI General Manager, Corporate Affairs Department, Mr Sadiq Kassim, on behalf of their respective organisations at a ceremony in Funtua.
At the event, Dr Adeleke Mufutau, the Head of Maize Value Chain Desk in the Federal Ministry of Agriculture and Rural Development, described the MoU as milestone in the Federal Government's efforts to boost Nigeria's food security through FSP.
Mufutau said the programme would aid efforts to bridge the perceptible gaps existing in the country's maize production, as farmers were currently producing 10.5 million tonnes of maize, out the required 15.5 million tonnes.
He said that one of the main objectives of FSP was to boost maize yields, adding that with adequate supply of farming inputs, the current 1.5 tonnes of maize per hectare production level would improve to between 4.5 and 5 tonnes per hectare.
Mufutau commended the TGI subsidiary, WACOT Ltd, for its commitment.
Also speaking, Apampa said that BIF, his organisation, was working to support business innovations and promote inclusive development in low-income countries.
He noted that FSP activities would assist farmers in the areas of capacity building, database formulation and other technical areas.
Apampa said that the venture was a profitable, core-business activity that would make a high development impact, while creating jobs, integrating local farmers and entrepreneurs in international supply chains.
He said that the project was also aimed at providing quality and affordable services to low-income consumers.
Mr Sadiq Kassim said that TGI was currently working with the Federal Ministry of Agriculture and Rural Development and the Central Bank of Nigeria (CBN) to improve agricultural productivity in the country.